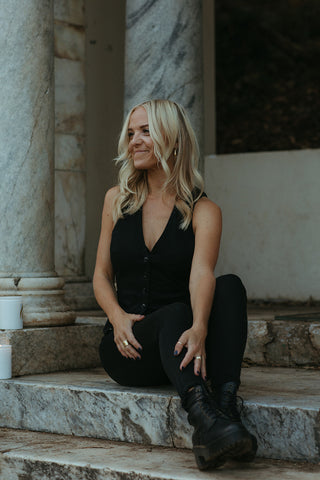 my name is sarah
and I'm the creator of often wander.
i started often wander in january 2012 after spending time abroad — i came back to california inspired and ready to create. the first few years started slow; selling my creations to friends, then at farmers markets and pop ups, with my small collection of candles, mala necklaces and other beaded jewelry.
in may 2014 i joined forces with friends noon designs to share our first brick and mortar store in ocean beach, san diego. 
it was in that space where we began to grow our team, our online store, our wholesale business, and our many collections of candles and jewelry.
in september 2018, after years of manifesting, our second brick and mortar store in the mission district of san francisco was born. it had always been a dream to have a store on the popular valencia street in san francisco, and i am so grateful to be here.
in the spring of 2019 we closed our ocean beach location in san diego to open a new store in little italy in the fall. with two stores in separate cities, we are able to offer much more in store than ever before.
we are proud to carry many locally made products from our friends and other local talents, as well as a beautiful eclectic collection of home decor, plants, art, and vintage finds. 
we pride ourselves in being able to offer product refills to our customers and host candle designing events at our shops. If you'd like to know more, we encourage you to join our mailing list to make sure you stay up to date on all events and what we've been up to.
... always evolving and ever wandering ...
O F T E N  W A N D E R ,  W A N D E R   O F T E N.